Kitchen Racks: 35.5'' Steel Standard Kitchen Rack
-41%
Kitchen Racks: 35.5'' Steel Standard Kitchen Rack
Rs. 21,999.00
Rs. 12,999.00
12,999.00
Kitchen Racks: 35.5'' Steel Standard Kitchen Rack
GKW Retail is a platform for Furniture Online that offers a wide range of gorgeous Kitchen Racks to assent all your needs as well as the furniture that complements your interiors.
Modern simple fashion fits all different indoor environments, three little hooks on both sides make it convenient to hang some cooking tools.
Features
Adjustable leg pads ensure the baker's rack utility storage shelf keep sturdy even on uneven ground
Hooks included: 10 Little hooks make it convenient to hang your cooking tools. Portable and lightweight space-saving design, needing minimal floor space.
Softly rounded corners to prevent kids from bumping
Can be used as kitchen organizer rack, shelf, dish organizer, microwave oven stander, or other kitchen appliances
Product Details
Dimensions:
Overall: 51.77'' H x 35.5'' W x 16.54'' D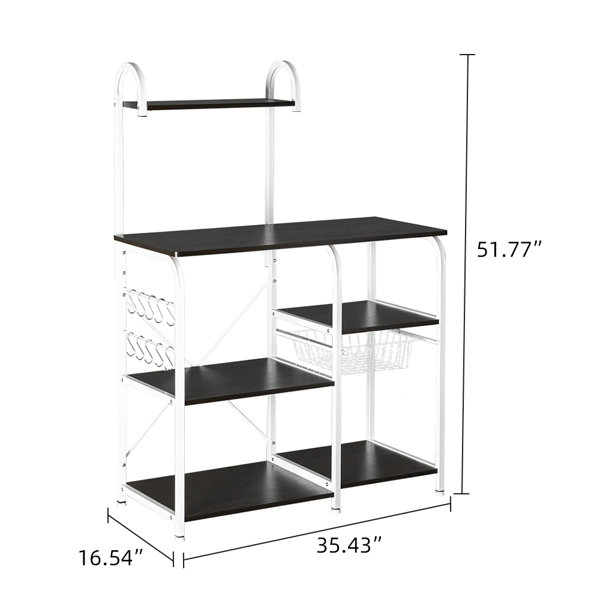 Shipping To all India for all orders placed with shop.gkwretail.com is subject to availability and will be decided based upon the stock availability.
On maximum schedule of delivery & Shipment, you will receive your shipment within 14-21 days after successful placement of your order with us, i.e For Delhi_NCR only.
Any place other than Delhi_NCR, we will ship your product within 30 days after successful order placement with us.
Due to COVID-19, all orders are delayed for at least 15 days for each location, Please be kind, we are working very hard to meet your expectations!
For more inquires you can write to us for faster delivery, info@gkwretail.com with Subject title as Fast Delivery Regarding an Order placed with you while mentioning your order id in the email..
Refund and Cancellation Policy
Order cancellation with full refund is available only in first 24 hours of order placement only, after 24 hours, An deduction of 3.5% of the whole amount will be deducted and rest refund will be generated within 7 working days with the same method of payment you have used.

Our focus is complete customer satisfaction. In the event, if you are displeased with the services provided, we will refund back the money, provided the reasons are genuine and proved after investigation. i.e Manufacturing defects, wrong items received.
Please read the fine prints of each deal before buying it, it provides all the details about the services or the product you purchase.

Our Policy for the cancellation and refund will be as follows:
 Cancellation Policy

Order can be canceled till the same is out for delivery. You would see an option to cancel within 'My Orders' section under the main menu of your App/Website/M-site then select the item or order you want to cancel.
In case of replacement, there will be no options for the full refund, only 45% of the total amount will be refunded in such scenario.
In case you are unable to cancel the order from 'My Orders' section, you can refuse it at the time of delivery and refund will be processed into the source account, if order amount was paid online. An item cannot be cancelled after delivery of the good/s. After ordering for the good/s, and upto the time of delivery, the customer can cancel the order online

Refund Policy

In case of dissatisfaction from our services, clients have the liberty to cancel their products/services and request a refund from us.

Refunds will be issued to the original source account provided at the time of purchase. After the refund has been initiated, as per the Returns Policy, the refund amount is expected to reflect in the customer account with in 45 Business Days.
We connect people with passionate designers.

GKW Retail Store is a furnishing marketplace—an easy stop to commission quality bespoke goods. At GKW Retail, we have brought together India's most vibrant interior designers, craftspeople and artisans to manufacture customized yet high quality, sustainable pieces of furniture.

We realize confusion is inevitable if it's your first house, and as in most cases, the first house of the generation. For a simplified journey, our team features a range of their own designs that can be customized to suit your specific needs. Or better, brief us around your idea and we'll make it possible


Our procedure:

Give a brief on your requirements -> Hire a Design Consultant -> Design your Idea -> Take an expert Advise -> Finalize the Design -> Get its 3D Model.
FYI
Definitions:-
Set Of 1 Stands for 1 piece only. (Only 1 chair/stool.)
Set of 2 Stands for 2 piece only.  (Only 2 chair/stool.)
Set of 4 Stands for 4 piece only. (Only 4 chair/stool.)
Set of 8 Stands for 8 piece only. (Only 8 chair/stool.) & so on...
This Set thing is for chairs, dining chairs, bar chairs, stools, bar stools etc. Please contact support before taking any kind of ground on this.
'