Designer Sofa Set:- 3 Seater Velvet Fabric Luxury Furniture Sofa Set
Designer Sofa Set:- 3 Seater Velvet Fabric Luxury Furniture Sofa Set
-34%
Designer Sofa Set:- 3 Seater Velvet Fabric Luxury Furniture Sofa Set
Rs. 149,999.00
Rs. 99,999.00
99,999.00
Designer Sofa Set:- 3 Seater Velvet Fabric Luxury Furniture Sofa Set
GKW Retail is a platform for Furniture Online that offers a wide range of gorgeous or premium Sofa Set to assent all your needs as well as the furniture that complements your interiors.
Present your home in modern luxury with a centerpiece Designer Sofa Set that exudes a glamorous vibe at every angle. This Chesterfield  Sofa  Set is the ideal addition to any living room with its classic design and traditional elements such as scrolled arms, turned legs, and nail head accents.
Upgraded with a sleek, modern touch of channel tufting, this 3 Seater Sofa Set brings you an undeniably elegant touch to your interior space. Featuring soft velvet upholstery, this Fabric Sofa Set stands as a streamlined statement piece that can change the whole flow of your living room.
Dimensions:
Overall Dimensions: 35.50 inches deep x 84.00 inches wide x 28.00 inches high.
Seat Dimensions: 23.00 inches deep x 68.00 inches wide x 18.25 inches high.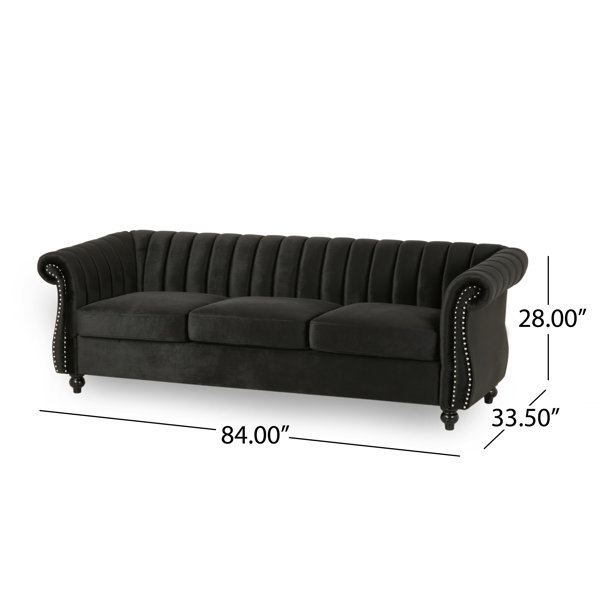 About Us
+91-8929311366
info@gkwretail.com
Address: Plot No:-84/17, Mundka Industrial Area, Delhi- India, 110047 Corporate Indentification Number U36912DL2013PTC253861
Cities We Deliver to: Delhi, Hyderabad, Pune, Chennai, Gurgaon, Kolkata, Noida, Goa, Ghaziabad, Ahmedabad, Faridabad, Jaipur, Lucknow, Kochi, Chandigarh, Bengaluru, Mumbai, Navi Mumbai, Vadodara, Nagpur, Thiruvananthapuram, Indore, Mysore, Bhopal, Surat, Jalandhar, Patna, Ludhiana, Nashik, Madurai, Kanpur, Aurangabad, Imphal, Hubli, Guwahati and many more
Popular Online Furniture Categories