Designer Sofa Set:- European Style Royal Luxury Furniture Sofa Set
Designer Sofa Set:- European Style Royal Luxury Furniture Sofa Set
-38%
Designer Sofa Set:- European Style Royal Luxury Furniture Sofa Set
Rs. 309,999.00
Rs. 194,999.00
194,999.00
Designer Sofa Set:- European Style Royal  Luxury Furniture Sofa Set
GKW Retail is a platform for Furniture Online that offers a wide range of gorgeous or premium Sofa Set to assent all your needs as well as the furniture that complements your interiors.
Modern style Designer Sofa Set, good elasticity, comfortable sitting, firm, no collapse for 5 years, healthy and environmentally friendly, from raw materials to finished products, we strictly control each level.
The generous size, armrests, and foam that adapts to the contours of your body invite many hours of naps, socializing, and relaxation. Here, we are talking about this Leather Sofa Set  that is designed in such a way that its back and seat portions are extremely pleasant. The seat and back portions of this sofa set are filled with high resilient foam and fiber balls for soft seating comfort.
This L Shape Sofa Set comes with a timeless design and is wonderfully thick. Acclaimed for its modern style and plush comfort, this Luxury Sofa Set is gaining immense popularity in the market.
we use comfortable & breathable cotton and linen cloth, high-density sponge with latex, so it's very gentle, skin-friendly, and comfortable. With a solid wood frame, it's more stable, can be installed easily. We sold them to many different States with good feedback.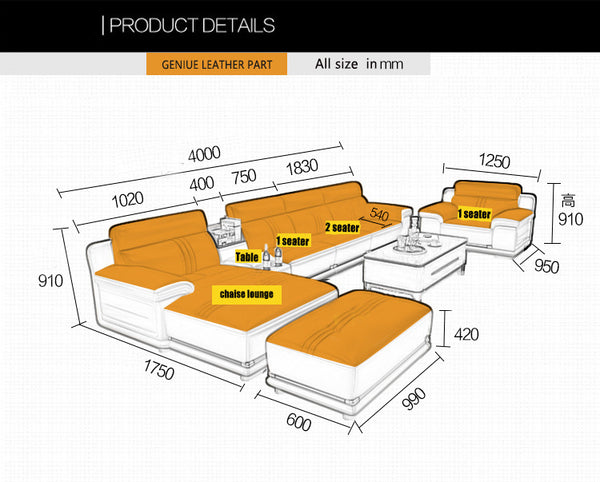 About Us
+91-8929311366
info@gkwretail.com
Address: Plot No:-84/17, Mundka Industrial Area, Delhi- India, 110047 Corporate Indentification Number U36912DL2013PTC253861
Cities We Deliver to: Delhi, Hyderabad, Pune, Chennai, Gurgaon, Kolkata, Noida, Goa, Ghaziabad, Ahmedabad, Faridabad, Jaipur, Lucknow, Kochi, Chandigarh, Bengaluru, Mumbai, Navi Mumbai, Vadodara, Nagpur, Thiruvananthapuram, Indore, Mysore, Bhopal, Surat, Jalandhar, Patna, Ludhiana, Nashik, Madurai, Kanpur, Aurangabad, Imphal, Hubli, Guwahati and many more
Popular Online Furniture Categories